Antartide. OASI & Cochise
Products > Astronomy and Instrumentation

Progetti OASI e COCHISE in Antartide in collaborazione con il dipartimento di Fisica sperimentale dell'Università Roma3
In collaborazione con Università di Roma 3, ENEA e con la collaborazione di alcune aziende quali Officine Ottiche Marcon esotto la supervisione del Prof. Dario Mancini è stato ideato, progettato e realizzato un sistema di movimentazione e controllo innovativo wireless, applicato al telescopio Cochise installato in Antartide. Questa soluzione ha consentito la totale eliminazione dei cavi di potenza e controllo e quindi tutti i problemi ad essi correlati, ivi comprese le spese per la realizzazione di un supporto scaldante o per l'acquisto di cavi dedicati di qualità militare in grado di operare alle temperature invernali Antartiche (-87°C). L'attività include il SW di controllo del telescopio che è in montatura altazimutale. Precedentemente ATEC Robotics ha realizzato il sistema di controllo e movimentazione del telescopio OASI sempre in Antartide che è anche in montatura altazimutale.
I telescopi OASI e Cochise sono installati presso le basi Concordia e Terranova.
Sono state svolte le seguenti attività:
Ideazione, progettazione e realizzazione del sistema di controllo e movimentazione del telescopio altazimutale OASI

Ideazione, progettazione e realizzazione del sistema di controllo e movimentazione del telescopio Cochise.


Ideazione, progettazione e realizzazione di sistema di controllo innovativo del telescopio Cochise basato su tecnologia WiFi ed alimentazione LiFePo4 anche per i loop di posizione con rimozione di tutti i cavi di poitenza e controllo.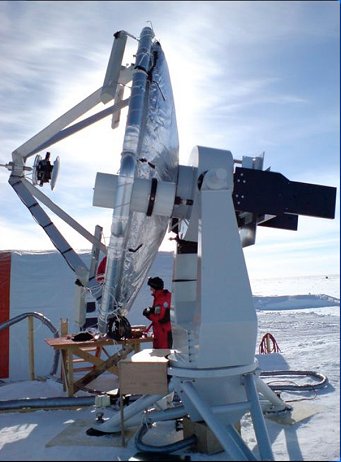 COCHISE (Cosmological Observations at Concordia with High sensitivity Instrument for Source Extraction) is a 2.6m telescope lo cated on the high Antarctic Plateau near the Italian–French Concordia Base. The telescope is mainly devoted to Cosmological observations, able to operate between 200 μm and 3 mm of wavelength. In this paper we describe the main characteristics of the instrument. We also report on the first light, obtained during summer 2010–2011: this result marks the beginning of millimetre astrophysical observations at Concordia. Responsivity, noise equivalent temperature and field of view of the instrument are reported. At present COCHISE is the largest telescope located at Concordia. Beside the scientific expectations, the use of this kind of instrument in the Antarctic environment poses technological aspects of relevant interest: thus COCHISE can be considered as a pathfinder for future Antarctic telescopes.

From the optical point of view, COCHISE is very similar to OASI. It is a Cassegrain telescope: the primary mirror has a diameter of 2.6 m and is made of a monolithic Aluminium alloy. It weighs 124 Kg. Its surface r.m.s. roughness is less than 0.5 μm, making the telescope suitable to operate down to a wavelength of 200 μm (a conservative limit for the mirror efficiency); this condition makes also easier the alignment procedures with visible light.
OASI A destra, il primo telescopio automatizzato.