CCP Computer Controlled Polishing
Products > Astronomy and Instrumentation
Computer Controlled Polishing Machine - CCPM1300


CCPM1300 (Computer Controlled Polishing Machine)

has been designed for grinding and polishing of both spherical and aspherical optical surfaces. The machine shown in the pictures has been manufactured for Selex Galileo (Prato Calenzano Italy). It is a 7 DF autonomous robot that when equipped with a dedicated interferometer is able self optimize the polishing parameters in order to reach the desired final optical quality. The surface mapping file is uploaded by the machine control system in order to automatically analize and determine step by step the new polishing process. During the optimization process and after any polishing cycle, the optics is analyzed by the interferometer, so the polishing will be optimized step by step untill the quality target will be reached. During the acquisition process, when the optics is in vertical position, the machine rotates the optics to evaluate possible astigmatism effects due to gravity. The machine evaluates carefully the force applied by the polishing pad on the surface. The machine is provided with two separatehydraulic circuits, respectively for fine surface grinding and for polishing. The CCPM can be realized in different dimensions and with different control system, under specification from customers also.
CCPM1300 (Computer Controlled Polishing Machine)

è stata progettato per la levigatura e la lucidatura di superfici ottiche sia sferiche che asferiche. La macchina visibile in figura è stata progettata e realizzata per Selex Galileo di Prato Calenzano. È un robot autonomo di 7 DF che, se dotato di un interferometro dedicato, è in grado di ottimizzare automaticamente i parametri di lucidatura al fine di raggiungere la qualità ottica finale desiderata. Il file di mappatura della superficie viene caricato dal sistema di controllo della macchina per analizzare automaticamente e determinare passo dopo passo il nuovo processo di lucidatura. Durante il processo di ottimizzazione e dopo ogni ciclo di lucidatura, l'ottica viene analizzata dall'interferometro, quindi la lucidatura sarà ottimizzata passo dopo passo fino a raggiungere il target di qualità. Durante il processo di acquisizione, quando l'ottica è in posizione verticale, la macchina ruota l'ottica per valutare i possibili effetti dell'astigmatismo dovuti alla gravità. La macchina valuta attentamente la forza applicata dal tampone di lucidatura sulla superficie. La macchina è dotata di due circuiti idraulici separati, rispettivamente per la macinazione superficiale fine e per la lucidatura. Il CCPM può essere realizzato in diverse dimensioni e con diversi sistemi di controllo, anche secondo le specifiche dei clienti.

Possono essere impostati diversi programmi di lavorazione. Il portale (assi x , y e z) consente all'utensile di raggiungere ogni punto della superficie della tavola rotante. L'asse Z comprende un mandrino provvisto di testa di misura della pressione con la risoluzione anche inferiore ad 1 grammo èper lavorazioni su piccoli pezzi. Il mandrino, la cui rotazione può essere o meno controllata (libero o movimentato), è anche provvisto di tilt intorno agli assi X ed Y. La macchina può essere dotata di centralina oleodinamica per il ribaltamento della tavola portapezzi e di impianto idraulico che consente l'uso di fluidi di lavorazione differenti a seconda se si deve effettuare fine grinding o polishing. Insieme alla CCP può essere fornito il sistema di misura interferometrico. Al mandrino può essere fissato un utensile per la correzione di errori localizzati, sempre con l'ausilio del sistema di misura interferometrico per il feedback dell'effetto della lavorazione. Il programma di lavoro viene stabilito autonomamente dal sistema di controllo della macchina sulla base di files che riportano gli errori rilevati interferometricamente ad ogni step di lavorazione.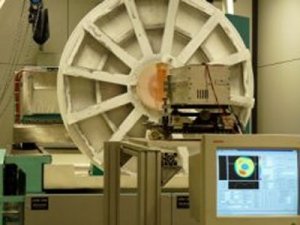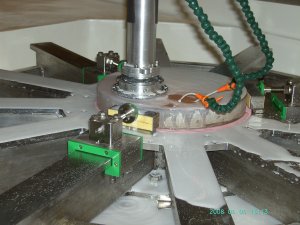 CCPM1500 Main Technical Specifications

Assi / axes (x1/2, Y, Z, Tx, Ty, Tt, M, force)
Additional 120 degs overturn of rotating tables

7 + forza + ribaltamento
7 + force + overeturn

Massimo diametro ottica non ribaltabile
Max diameter of a single optical piece

1700 mm

Massimo diametro ottica ribaltabile
Max diameter of overturned optical piede

1350 mm

Minimo diametro lavorabile
Max diameter to be polished

nessun limite
no limits

Numero ottiche lavorabili contemporaneamente
Max number of contemporary optics to polish

A riempimento tavola
No limits

Massimo peso sulla tavola
Max load supported on the table (centered)

1500 kg

Massimo peso ribaltabile
Max overturned load

800 kg

Sensibilità pressione mandrino
Force sensitivity

0.01-40 gr

Lavorazioni possibili (anche combinate)
Possible polishing shapes

- sferiche/spherical
- asferiche/aspherical
- asimmetriche/asymmetric
- lenti /lenses
- specchi /mirrors

Velocità rotazione tavola/mandrino (max)
Max rotating speed of turntable

360 rpm

Velocità lineare massima assi X-Y-Z
Max axies speed (X/Y/Z)

6 m/s

Qualità superficiale ottenibile
Optical Surface Quality

nessun limite

Dimensioni (spazio macchina)
Overall Dimensions

L2500-P3500-H3000

Posto operatore per setup
Operator Graphics User Interface

Si
Yes

Interferometro con feedback lavorazioni
Interpherometer for polishing feedback

Opzionale
Optional

Materiali lavorabili
Material to polish

Tutti
All possible